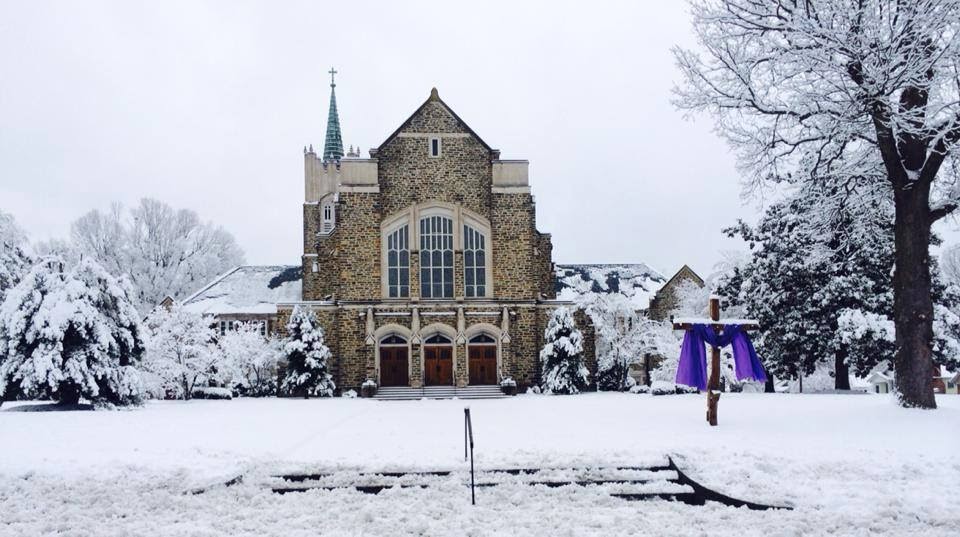 Memorial United Methodist Worship Schedule for Sunday, January 13, 2019
Due to possible icing of roads and the church parking lot Sunday's 8:50 AM worship service and Sunday School are canceled. The 11:00 AM worship will be broadcast on WGOS 1070 AM.  In deciding whether to attend the later service, remember your safety and that of your family is our primary concern. If the roads are icy pour something hot to drink and tune-in at home.
Worship Service Times
Contemporary Worship - 8:50 AM Jarrett Hall | Worship - 11:00 AM Main Sanctuary
TUNE IN to WGOS 1070 for a LIVE FEED
of our
R.L. Pope Sunday School Class (10 AM) & 11:00 AM Worship Service
We are called by Christ to GROW in faith, BUILD relationships, and SERVE all people.
CHECK OUT THESE
UPCOMING MINISTRY OPPORTUNITIES…
"… [W]e need more than the comforting smell of 'chestnuts roasting on an open fire.' In Advent we are asked to look unflinchingly into the darkness, and how it has invaded people's lives, with the conviction that redemption is near."
read more
Facebook Twitter Instagram Youtube UPCOMING EVENTS JANUARY 20 - SERVICE PROJECT NIGHTJANUARY 27 - "EMPTY BOWLS" PAINTING PROJECTFEBRUARY 3 - SUPERBOWL PARTYFEBRUARY 10- SKI TRIP FEBRUARY 17 - CONNOR'S PROGRAMFEBRUARY 24 - BINGO AT PIEDMONT CENTERMARCH 3- CELEBRATION...
read more
UPCOMING EVENTS
DEC 23   LOVE FEAST ADVENT SERVICE (7 PM)
DEC 24   CHRISTMAS EVE HOLY COMMUNION (5:30 PM)
JAN 6     WELCOME TO MEMORIAL CLASS BEGINS
JAN 7     UMW GENERAL GATHERING
JAN 9     WEDNESDAY NIGHT SUPPERS BEGIN AGAIN
FEB 3     YOUTH "BIG GAME" PARTY
FEB 8-10     YOUTH SKI TRIP
FEB 17     CONFIRMATION CLASSES BEGIN
MAR 5     FAT TUESDAY PANCAKE DAY!
MAR 6     ASH WEDNESDAY
MAR 15     EMPTY BOWLS
APR 14     PALM SUNDAY
APR 21     EASTER SUNDAY
IF YOU HAVE A CHURCH EVENT THAT YOU WOULD LIKE ADDED TO OUR CALENDAR, PLEASE CONTACT SUSAN FRYE.
Wonderful place of worship. You will feel very welcomed and loved. Great work reaching out to the community.
Gina Frady
Love going there the people there are so welcoming and nice. Never felt judge when i go there with my special needs kids. My kids love going.
Tanya Gapski